Wireless E-Stop Systems

Smart. Dependable. Portable.
Give Workers fail-safe, mobile access to a wireless emergency stop device
Emergency Stop In the Palm of Your Hand
In an emergency, every second counts. BWI Eagle's handheld emergency stop transmitter saves you valuable time when it matters most. The lightweight Wireless E-Stop can be carried or worn on a belt to provide instant access all day long.
E-Stop Applications
BWI Eagle Remote E-Stops work with any machine that has an emergency stop circuit. Stop mobile robots, industrial machinery, autonomous vehicles, and heavy equipment instantly and safely. For applications where wired connections are expensive, dangerous, or impractical, BWI Eagle's Wireless Emergency Stop Systems provide a safe and reliable solution.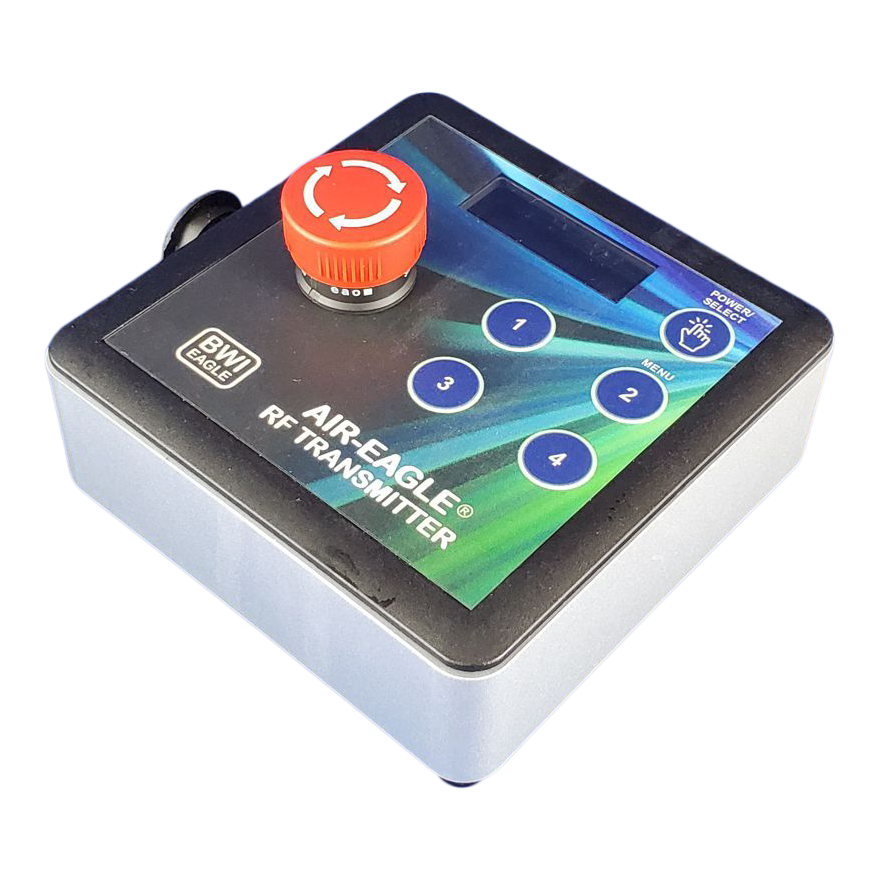 Intervene Immediately from a Safe Distance
The handheld remote stop button can shut down any machine from a safe distance. When fixed emergency stops are out of reach, the Wireless E-Stop provides instant peace of mind. BWI Eagle offers models with ranges from 600 Ft. to 5,000 Ft. Give your workers constant and immediate access to an E-Stop from any location.
Integrates with Existing Systems
The BWI Eagle Remote E-Stop is easy to incorporate into your existing safety systems. The receiver can be mounted on any machine and hard-wired into any standard E-Stop circuit.
Continuous Signal Monitoring
In critical applications you need to know the stop function is going to work every time. Once paired, the handset and receiver are in constant two-way communication. The system is programmed to send a periodic "heartbeat" signal between the transmitter and receiver to continuously monitor the connection.
As long as the signal between the units remains linked, the receiver keeps one or more relays energized and the machinery running. The linked relays de-energize immediately upon activation of the remote E-Stop button. In the event of link-loss between the transmitter and receiver, the linked relays de-energize after a specified timeout period, preventing the machinery from running unprotected.
Remote stopping protects people and property. Enhance worker safety and the productivity of your operation. Don't wait until an emergency event to find out the link between your E-Stop and machinery has been interrupted. You leave nothing to chance with BWI Eagle E-Stop systems' continuous signal monitoring.
Long-Lasting Power
The BWI Eagle handheld E-Stop transmitter features a micro USB rechargable lithium ion battery. The battery can be recharged over and over with no loss of effectiveness. The transmitter can be charged with a standard wall charger, in your vehicle, or anywhere you charge your phone. The battery lasts all day on a single charge and the unit can be used while charging.
Features

Prevent accidents and protect your team
Heartbeat signal two-way monitoring ensures that your "stop" command will always be heard
Long range connectivity
LED display provides critical feedback
Long lasting USB Rechargable lithium ion battery
Operates while charging

Technical Specifications

Choose from models with 600 ft., 2,500 ft., and 5,000 ft. line of sight range
IP40/IP66 rating for industrial use
SIL 3 compliance pending
Eight Independent network frequencies
Up to 9 hour battery life
-40º F to +185º F operation
Buy Direct!
Call BWI Eagle for an immediate quote.
724-283-4681
Wireless E-Stop Systems
Air-Eagle XLT Plus (Extra Long Range)
465U-HHEBD-4

Air-Eagle XLT Plus
900MHz, 5000 Ft. Range, Single Latching E-Stop Button, Four Button Keypad, LED Display, Failsafe Linking to Receiver, USB Rechargeable
More Info

465P-8D-ESTOP-DC

Air-Eagle XLT Plus
900MHz, Four Relay, Failsafe Linking to E-Stop Transmitter, 9-36VDC Powered
More Info

900 MHz ANTENNAS

900 MHz Antennas for use with Air-Eagle XLT Plus equipment

Wireless E-Stop Systems
Air-Eagle XLT (Long Range)
441U-HHEBD-4

Air-Eagle XLT
900MHz, 2500 Ft. Range, Single Latching E-Stop Button, Four Button Keypad, LED Display, Failsafe Linking to Receiver, USB Rechargeable
More Info

441P-8D-ESTOP-DC

Air-Eagle XLT
900MHz, Four Relay, Failsafe Linking to E-Stop Transmitter, 9-36VDC Powered
More Info

900 MHz ANTENNAS

900 MHz Antennas for use with Air-Eagle XLT equipment

Wireless E-Stop Systems
Air-Eagle SR Plus (Short to Medium Range)
36U-HHEBD-4

Air-Eagle SR Plus
2.4GHz, 600 Ft. Range, Single Latching E-Stop Button, Four Button Keypad, LED Display, Failsafe Linking to Receiver, USB Rechargeable
More Info

38P-2D-ESTOP-DC

Air-Eagle SR Plus
2.4GHz, Four Relay, Failsafe Linking to E-Stop Transmitter, 9-36VDC Powered
More Info

2.4 GHz ANTENNAS

2.4 GHz Antennas for use with Air-Eagle SR Plus equipment